In the fall of 2007, Herb Everhart of Eversweet Apiaries was on a WV Eastern Panhandle Beekeepers Association (WVEPBA) committee to start a youth beekeeping program. This planted the desire for Herb to start a veteran beekeeping program. Being a veteran himself, he served two tours of combat, and was 100% disabled losing his leg in Vietnam. Herb found joy in beekeeping and wanted to share his knowledge with fellow veterans.
In 2011, Herb explored the different paths on how to start a program for veterans.  Applications for grants and other avenues for funding proved unsuccessful so he decided to start the program by donating a hive complete with bees to each of the veterans in the Program and provide support and education to the Veteran Beekeepers. The Frank W. Buckles Veteran Beekeepers Association is the first to be established in the state of West Virginia.
The veterans' apiary was selected at Gap View Farm in Jefferson County, WV, home of Frank Woodruff Buckles.  Mr. Buckles was the last American WWI veteran, and passed away in 2011 at the age of 110 years young.  We are proud and privileged to have our veterans' apiary on this farm.  Mr. Buckles' daughter, Susannah, has gone to considerable personal expense to plant bee-friendly plants and crops for the bees.  Her help and enthusiasm has been contagious. The acreage at Gap View Farm is large enough to support placement of hives for each veteran for many years to come.
The first four veterans were picked for the Association's 2012 Beginner Veteran Beekeeping Program. The two year program got off to a start with the bees being installed at the veterans' apiary. The first year ended with a graduation exercise in October 2013 with certificates awarded to the veterans for completion of their first year.  The first year veterans were successful in over-wintering their bees and harvesting honey!
The 2013 first year veterans beekeepers were again selected from WVEPBA's Beginners' Class.  The financial start-up was the same as 2012. Installation of the bees took place on May 10, 2013 at the veterans' yard at Gap View Farm along with a short class on nucleus colonies.  The 2013 Veteran Beekeepers graduated the first year program in October 2014. Second year veterans have proven to be a great help in donating their time & education to the first year veterans.
The Association and Program has been on hiatus since 2015 due to Herb's unfortunate passing, many of the veterans moving away, and the pandemic. Herb's daughter, Jennifer, is now rebooting The Association and Program. Jennifer serves as the Program Coordinator and Educator. The Program meant a lot to Herb and Jennifer wants to carry on his legacy of generosity and teaching veterans about beekeeping. She looks forward to helping veterans become successful beekeepers!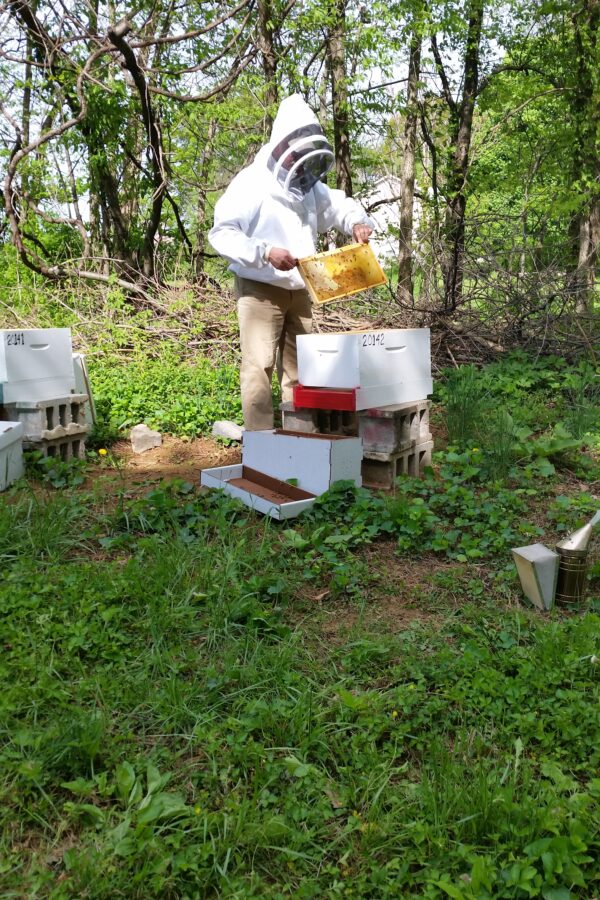 Helping veterans to become successful beekeepers!